The product will transform AC 100-240V into DC 12 V, its maximal output power reaches 20W, it can power most of smaller power 12 V chargers, such as 320B, and ohter 2-3s lipo battery charger with up to 1A charge current.
Connect any 12V Charger which is supposed to be powered from a Car battery or gel pack directly from your AC Wall Outlet, the switching power supply will provide up to 1.5 Amps. it is also equipped with both US / Japan and Europe AC plugs and works using 100 - 240V AC so it may be used internationally.

user's manual (75K )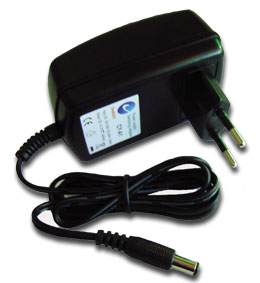 Featureú║
Switching technology
Light & Convenient Plug In
Input/Output Specifications:
Input Voltage: AC 100-240V, 50/60Hz
Range Voltage: AC 90-264 V, 47/63Hz
Output Power: 20W MAX.
Output Voltage: 12.0V(13.0V MAX.)
Output Current: 1.5 A, max.
General Specifications:
Operating Temperature: 0~40íŠ
Storage Temperature: ;-20~85íŠ
Operating Relative Humidity:5~95%RH
Withstanding Voltage: AC 2000V(Min),5mA(Max)
Insulation Resistance: DC 500V,100MŽŞ(Min)
Mechanical Characteristics:
Dimension: 80*53*35 (mm, L*W*H)
AC Plug: Customized according to your demand
Case Material : PC,PC+ABS, Norylor equivalent
DC Connector : OD:5.5, ID:2.1, Length:10mm, Cable length: 1.5 í└ 0.1 m
DC Connector polarity:
Net weight: 70g
Safety Certification:CE
A1 is fully committed to compliance with the European Unioní»s RoHS directive.
AC plug can be customized